How to be properly prepare during the hurricane season.
June 1 marks the official start of the 2016 Atlantic hurricane season.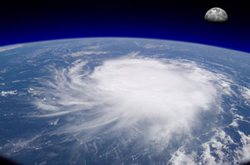 The National Oceanic and Atmospheric Administration is predicting an "active or extremely active" season this year.
NOAA says there are likely to be 13 to 20 named storms this year "of which 7 to 11 could become hurricanes … including 3 to 6 major hurricanes." Climate Central notes that NOAA doesn't predict how many storms will actually make landfall, but "some factors suggest that the U.S. will run a higher risk of landfalling tropical storms and hurricanes this year than in 2012."
Here is a list that can help you be prepared.
Water – at least 1 gallon daily per person for 3 to 7 days
Food – at least enough for 3 to 7 days
non-perishable packaged or canned food / juices
foods for infants or the elderly
snack foods
non-electric can opener
cooking tools / fuel
paper plates / plastic utensils
Blankets / Pillows, etc.
Clothing – seasonal / rain gear/ sturdy shoes
First Aid Kit / Medicines / Prescription Drugs
Special Items – for babies and the elderly
Toiletries / Hygiene items / Moisture wipes
Flashlight / Batteries
Radio – Battery operated and NOAA weather radio
Telephones – Fully charged cell phone with extra battery and a traditional (not cordless) telephone set
Cash (with some small bills) and Credit Cards – Banks and ATMs may not be available for extended periods
Keys
Toys, Books and Games
Important documents – in a waterproof container or watertight resealable plastic bag
 insurance, medical records, bank account numbers, Social Security card, etc.
Tools – keep a set with you during the storm
Vehicle fuel tanks filled
Pet care items
proper identification / immunization records / medications
ample supply of food and water
a carrier or cage
 muzzle and leash
---