Does your home owners insurance cover earthquakes?
On October 16, 2012, the state of Maine was shaken by a 4.0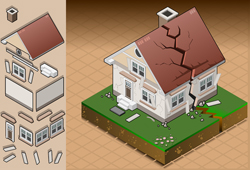 magnitude earthquake in the area of Hollis, just west of Portland. The quake was felt as far away as Boston, Massachusetts as well as New Hampshire and Rhode Island. Though no serious damage or injury has been reported, the earthquake spurred a number of questions from homeowners regarding insurance coverage for such events.
New England Earthquakes
The earthquake was something of a surprise to many people who didn't know that the New England area is shaken by periodic earthquakes every year. In fact, the New England area suffered a number of recent earthquakes from 1975 to 1988. In 1904, an earthquake of the magnitude 5.7 to 5.9 shook the Eastport area. In 2006, the Arcadia National Park area experienced a series of earthquakes. Most of the earthquakes are small and do little damage, but larger earthquakes can, and have, occurred in the New England area.
Earthquake Fault lines
Earthquakes are usually associated with the state of California and other western states, but earthquake fault lines run across the Midwest, the South, the Southeast and the Northeast. In fact, 39 of the 50 states lie in moderate to high-risk areas for earthquakes.
Typical Earthquake Damage
Damage from an earthquake can be very minor, or it can cause serious structural damage to a home or building. Generally, wood structures have the flexibility to withstand strong earthquakes. Stone, brick and adobe buildings withstand the severe shaking poorly.
The earthquake itself is not the only problem that can cause damage to a structure. Cracks in the foundation, flooring, window frames, and chimneys can occur. Entire walls can collapse, and interior structures can become severely compromised, requiring extensive rebuilding. Adjacent structures can become unstable and fall onto roofs and walls. Aftermath events such as tsunamis, fires or floods can create additional damage.
Are Earthquakes Covered?
Earthquakes are not covered under standard insurance policies. You must arrange for a special endorsement, to your Homeowners Policy, to cover damage from earthquakes.
Earthquake Insurance
Earthquake coverage typically includes a deductible of anywhere from 2 to 20 percent of the replacement cost of the home or building. As always, the higher the deductible, the more that homeowners can save on premiums. The cost of an earthquake policy can vary considerably from $85 per year to several hundred dollars.
Factors that Affect Insurance Costs
A number of different factors can influence the cost of earthquake coverage. The soil consistency in your area can affect the stability of your home's foundation. The age of your home can make it more vulnerable to earthquake damage. The type of construction materials used will affect the price of the policy. The structure's proximity to known fault lines can also cause you to pay more for your earthquake insurance.
Please contact O'Connor& Co. Insurance Agency, Inc. 800-254-9594 for an earthquake coverage quote today.
---
The dangers of text messaging and driving
I was driving recently and came up behind a black Jeep Cherokee on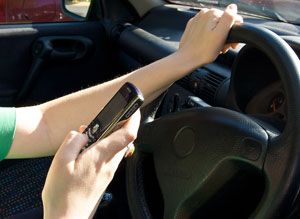 the highway. There was no cause for concern at first but after following behind for a brief time, I began to notice this driver was having difficulty keeping their vehicle between the lines on the road.
For ten minutes this operator proceeded to do what can only be described as acrobatic driving; driving that visually appeared to be so unsafe I decided to back off and give this person enough room so that when they crashed I would not be affected, it was that serious. "Is this person drunk?"
I thought but as I reasoned with myself I realized that while they weren't doing a particularly good job of keeping their SUV between the lines, I hadn't witnessed any other behavior to convince me that they were out and out intoxicated. Yet, I couldn't be completely sure; you can only watch someone bounce between the dividing line and shoulder so many times before you have to say to yourself "it doesn't matter if they are drunk, having a heart attack or just plain distracted you have to question the state of safety and just back off(and perhaps call the police).
A short while down the road, our side of the highway broke into two lanes, and I caught up to the Cherokee once again, this time pulling past the vehicle. As I pulled up alongside the Cherokee to pass…..you might have already suspected, what I witnessed was a young man in his mid to late 20s with two hands on his "Smart" phone and, apparently with only his knee, steering the vehicle. I'm not sure he even noticed me.
The National Safety Council and other American research organizations have some alarming statistics about motor vehicle crashes in the United States that help illustrate how the increasing prevalence of cell phone use and the danger of text messaging is directly impacting motor vehicle-related deaths.
Among them:
Motor vehicle crashes are one of the top three causes of death for all U.S citizens.
Motor vehicle crashes are the No. 1 cause of death for U.S. citizens aged 3 to 34.
Roughly 1.6 million car crashes each year are directly attributable to cell phone use, both texting and talking.
The risk of motor vehicle collision increases by a factor of 23 when a motor vehicle operator texts while driving.
In 1995, only 13 percent of the U.S. population were cell phone subscribers. As of 2009, that number has increased to an eye-popping 91 percent.
This last statistic may be the most troubling because it means we have reached a point in time where virtually every U.S. citizen is a cell phone user. Many young adults have never known a time in their lives where cell phone use hasn't been a part of their every day existence ? in the home, in the school and, most troubling, in the car. Texting and driving laws, while well meaning, are very difficult to enforce. Given the increase in motor vehicle crashes and fatalities that texting brings, the car insurance buying public is likely to feel the effects of impaired driving in their insurance costs for many years to come.
In the end, it's important to remember that just because you can do something doesn't mean you should. Put down the cell phone when you're driving. Let's be careful out there.
---
Why use independent agent vs. a direct writer for your Insurance?
What is the first thing you think about when you need insurance? We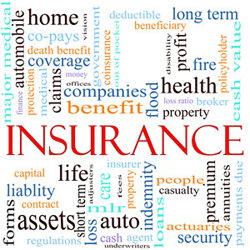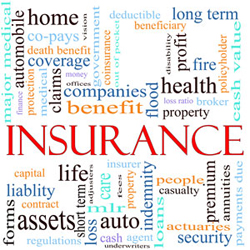 think one of the first considerations is deciding weather to go it alone with a "direct writer" or to have an "independent agent" on your side.
Direct writers
What is a direct writer? A direct writer issues policies for only one company. They work for only one company and represent only that company. With a direct writer there is no choice or means of competition, you have only one company to choose from. Having a direct writer can affect you at the time of claim. The direct writer works for the insurance company and will remain loyal to them at the time of claim. There is no insurance agent working for you, loyal to you and only you, in your relationship with a Direct Writer.
Independent Agents
An independent agent doesn't work for any single insurance company. He or she represents multiple companies from which he/she will shop for you. With more choices available, your insurance agent is more likely to find the perfect fit for your specific needs. If you experience problems with one company, your independent agent can easily find another one for you. Your Independent agent will go to bat for you if you need to make a claim.
Benefits of independent agents
You can develop a valuable relationship with your independent insurance agent and knowing your needs and unique circumstances is important in the insurance relationship. You are a person instead of a number. The direct writer's first duty is to their employer. A direct writer is a captive agent because he/she can only offer you one company. The independent agent offers you multiple plans from multiple companies. Because he or she can work with different companies, your independent agent can secure multiple pricing and coverage options. With an Independent Agent if your insurance needs change there are more options to address these changes. With an independent agent, you get personalized claims service because you deal with people you already know, not strangers. He or she will work with you in the event of a claim. Because he or she works with many different companies, your agent is a one-stop shopping center!
Which one is right for your needs?
If you only need or want one insurance pricing or coverage option, a direct writer may be ok. Have your insurance needs changed much in the past years? Do you expect much change in the future? If you want to preserve the option to change plans, or companies easily, an independent insurance agent is best. Do you like a lot of options when choosing an insurance plan? An independent agent provides many options.
Choosing an insurance plan right for your needs is hard work. Make it easier by finding the right kind of agent for you. Unless you prefer limited choices and foresee little change in your needs, an independent insurance agent is your best bet.
---