Winter can be enjoyed when you are properly prepared!
Now is the time to start your preparations for winter 2012-2013 and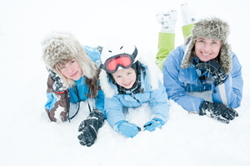 the storms that will undoubtedly be coming our way. As extreme weather events in New England continue, we can no longer get by with our old assumptions that all we need is a few flashlights to get by. The storms are getting bigger and more frequent and that means more damage throughout the area and more days potentially without heat or electricity. Now is the time to create your own "survival" plan and to gather what you may need.
Sometimes, winter storm warnings are given well in advance so that we have time to prepare or change our schedules. One idea is to organize your commuting plans in advance so you are able to carpoolwith someone who has four-wheel drive. Storm advisories often can turn into warnings. Just because you may be in an advisory zone may not mean you are off the hook. You could find yourself in an outer band of rain/ice mix, which is just as dangerous as a snowstorm.
A Northeaster, more commonly referred to as a Noreaster, is exclusive to New England winters. These types of storms start in the Atlantic in the fall or winter months. Think of this storm as a snow-filled hurricane, with high winds and blizzard conditions dumping snow measured in feet, not inches.
Given the extremes, it makes sense to have a plan and emergency supplies before we face any weather alerts. The familiar sight of televised storm coverage with people in long lines buying supplies and stores selling out of the things we need the most does not have to happen to you. Take inventory now and start to pull together your winter home emergency kit, which should include:
Extra batteries for flashlights, radios.
Emergency charger for cell phone (some hand-crank powered weather radios offer this feature).
First aid kit stocked with bandages, sanitary wipes, gauze and rubbing alcohol.
Battery-powered lanterns for ample light in each room (in a pinch, you can raid your Christmas decorations for battery-powered LED lights).
Warm blankets to add to bedding when you have no heat.
Emergency supply of prescription medication that you may need.
Over-the-counter medications that you may need, such as analgesics.
It is a good rule of thumb that each person will require a gallon of water per day in reserve if we lose access to our water supply. Think of food that does not need to be cooked. Canned beans and vegetables, boxed cereals and energy bars are good choices.
Make sure you have a handle on exterior issues too. Your shovel or snow blower needs to be in good working order and in an accessible location. If you have a generator, test it in the fall to make sure it is in good working order and that the you have sufficient fuel. Clean your gutters now and again after a snowstorm and remember to check for ice dam formations along your roofline. Clearing gutters helps ensure that melting snow can flow freely without collecting on the roof and causing a potential leak or worse, a collapse. Many area hardware stores sell roof rakes. If you are not able to clear your roof or gutters on your own, arrange ahead of time for someone to do this for you.
Preparations can help ease the stress of demanding winter conditions too. So anticipate what you might need, and pack plenty of patience along with those extra supplies because when it comes to winter in New England we can always expect some of the unexpected.
---