Mulit-family, duplex or a three decker insurance information
Searching for Massachusetts multi-family property insurance can be complex. The coverage's, limits and exclusions will be different based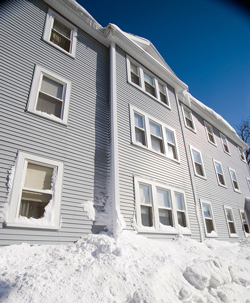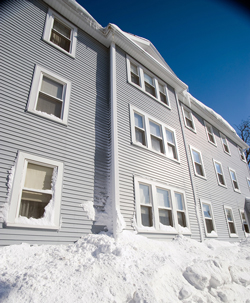 on if it is a general apartment-style multi-family property, a duplex owner-occupied home, or a triple- or three-decker insurance plan. However, there are some basic coverage options you should know that apply to all types.
Read your options carefully because you don't want to discover after a fire or storm that you aren't completely protected. While cost is a factor, avoid the mistake of choosing solely based on price. There are other important factors to consider in coverage options that could save you tens of thousands of dollars if a loss occurs.
All Risk Insurance
Some of the most important aspects of duplex owner-occupied and triple- or three-decker insurance will be to choose a policy that is "all risk" as opposed to "named peril." The named peril insurance will only cover for those types of losses that are specifically named and defined in the policy. Insurance companies can take advantage of that by denying claims that might not perfectly fit in the defined category.
All risk coverage will protect for all loss unless it is specifically excluded; exclusions do apply, so be sure to read over them and know what they are. Typical exclusions often include losses due to wear and tear, earthquakes, and floods. Another advantage of all risk policies is coverage limits of personal contents are expanded.
Coverage for Flood
If your multi-family property is in a flood zone or an area that could be prone to flooding, you can buy a flood policy separately. The Federal Emergency Management Agency takes on the risk to pay out flood claims but is usually processed and managed through an agent or insurance company.
Coverage for Sewage Backup
Unless the coverage is specifically mentioned on the quote or policy, water and sewer backup is not automatically covered. This loss could occur as something as minor as a toilet backup or as major as a city sewer backup, but both could add up to costly repairs.
Liability Protection
Another option to carefully consider is the amount of liability protection from lawsuits due to slips and falls, negligence, third party negligence or accidental death. You should have several layers of protection that include high limits of liability on your property policy and an excess (umbrella) liability policy. This is vitally important if the property includes a pool, playground or work out facilities. The more tenants you have, the more liability protection you should consider on multi-family, duplex owner-occupied, or triple-decker insurance.
Rental Income Loss Coverage
Lastly, carefully consider the financial impact of losing rental income because of a fire or other loss. Your policy will pay to have repairs made, but it's also strongly suggested to include insurance to recoup rental income loss. Each multi-family property poses its own unique insurance needs. Seek the help of a qualified and experience agent to ensure your insurance protection is designed for your individual needs.
---