How solar panels and going green can add value to your home.
Solar energy can be a smart decision and one with many advantages. When you make use of pure sunshine to power your home, the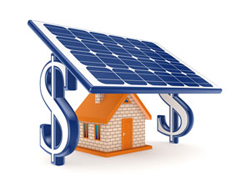 ethereal feel-good factor is just one of the benefits. If you are planning to install solar panels, expect some changes, the appearance of your property being one of them. Did you know that adding solar panels can also boost the value of your home…..much like a newly renovated kitchen or finished basement?
Let Your Insurance Coverage Grow With You
Green power sources can be a worthwhile investment, one that can immediately increase your property value and save you money. However, as with any addition to your property, homeowners should not ignore the impact that it can have on their insurance policy and coverage needs. If you are installing panels, it is important to discuss this with your insurance agent and talk about the specifics of the project and the value that it will add to your home. With the higher home assessment value and increased replacement cost, you will most likely need increased coverage to protect your property.
Using detached or freestanding solar panels could be an alternative (to roof-mounted units) that could also save you on insurance. While panels attached to the roof are considered to be a part of the structure, detached panels are defined differently. Depending on the insurance carrier, detached or stand-alone panels are often considered as personal property or miscellaneous other structures.
Before you decide on the question of panel placement, it is recommended that you discuss the coverage details with your agent. While many companies offer full coverage for any loss, some might just reimburse the depreciated value. Moreover, while some policies cover damages from a variety of causes, many might offer different protection levels depending on where the panels are located (on the main structure or freestanding).
Our team of knowledgeable and friendly agents are always available to provide you with valuable insights and guidance about your homeowners policy. No matter what type of panels you are considering, we will be able to answer all your questions and thoroughly review your existing insurance coverage. Going green is taking a step in the right direction. Count on us to help you receive the best possible coverage every step of the way.
---