Dog breeds that could raise your insurance rates.
Your dog might be your best friend, but chances are it is not best friends with everybody who visits your home. People adopt dogs for many reasons, including companionship, protection and breeding. Some dogs are put to work at an early age guarding livestock or being watchdogs, but most dogs earn their living loving us as much as we love them.
All homeowners are aware that they have to carry insurance to protect themselves in case someone gets injured on their property by an overprotective dog. But the truth is that certain dog breeds have a bad reputation for being too aggressive.
If you're planning to adopt a dog, you should consider how your new pet could affect your insurance rates. Some breeds can raise your rate, and other breeds could cause your insurance company to cancel your policy. Your dog may be the sweetest little buddy you've ever had, but these dog breeds, in particular, are noted for attacking people and other dogs. You might want to rethink adopting a pooch from this list.
• American Pit Bulls and Staffordshire Terriers share a similar appearance and the ability to cause serious harm. They can be sweet and affectionate one minute and vicious the next. Their size and jaw strength have put them front and center among dogs that injure and kill. They're even notorious for attacking their owners. They were responsible for over 60 percent of the 38 fatal dog attacks in the U.S. during 2012.
• Dobermans used to be extremely popular, but after a rash of attacks in the 1970s, many people have shied away from the breed. They tend to be very protective and aggressive, which makes insurance companies fear the worst.
• Rottweiler's aren't as tall as Dobermans, but they are stockier, and their jaws generate over 300 pounds of pressure per inch. They can quickly and easily break a person's arm or seriously injure or kill a child.
• Chows have earned a reputation among vets as being unpredictable. That unpredictability makes them a very dangerous breed to own, especially around children.
• German Shepherds make great police dogs and pets. However, they are territorial and protective. If unfamiliar relatives, friends or strangers come calling, they might be met by a not-so-welcoming host.
Almost any dog can be provoked, but the ones on this list are notorious. Keep that in mind when you're choosing a new pet to join your family.
---
Oh Deer, Tips for avoiding Deer Collisions.
Oh Deer, It's That Time of Year Again in Massachusetts and Connecticut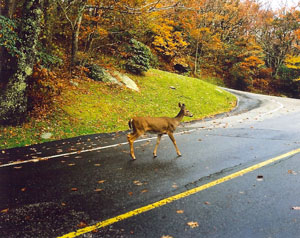 The arrival of the cooler weather marks the return of cozy sweaters, shorter days, pumpkin-flavored everything and – if you happen to live in Massachusetts or Connecticut – deer mating season. While a welcome sight in your backyard, packs of deer are a big concern on the road. If becoming one of over a million drivers who are involved in deer collisions every year isn't on your wish list, now is a great time to take a refresher course on accident prevention. Below is a quick rundown of what you need to know to stay safe behind the wheel all season long.
Keep Your Eyes Open for More. Like most humans, deer love company. Frequently traveling in packs, their unpredictable numbers can instantly throw surprised drivers off track. If you spot a pair of antlers in the distance, assume that many more are hiding in the shadows.
Check the Clock. Deer are especially active at sunrise and at dusk. That doesn't mean you won't see any earlier in the day or late at night, but that's when you're statistically the most likely to cross each other's paths.
Buckle Up. Hitting a deer is a serious business. To avoid life-threatening injuries, always wear your seatbelt, even if you're just driving to the nearby grocery store. Since local back roads are quieter than highways, they're more attractive to deer herds on the go, so it's important to always be on alert no matter where you're going.
Find the Middle Ground. When you're traveling on roads with multiple lanes, create an invisible buffer zone by merging into the middle lane. Because any stray deer will have to enter the roadway from one of the sides, driving in the center automatically gives you more time to react.
Read the Road's Sign Language. Now that deer mating season is about to be in full swing, paying attention to yellow diamond signs that designate common corridors for traveling deer is a safety must.
Stay Calm and Collected. If you do see a deer, honk your horn and drop your speed as slowly as you can to avoid a collision with the driver behind you. Although swerving will probably be your first instinct, it can throw you off the road or right into the path of the fast-moving deer you were trying to avoid.
While following the tips above will decrease your chances of accidentally hitting a deer, they aren't foolproof. Because collisions are sometimes unavoidable, you need to be prepared in case the unexpected happens. If you hit a deer, find a safe spot on the shoulder to assess the damage and call the police. As tempting as it can be to check on the deer, leave that job up to the pros. When hit, deer can become confused and aggressive, making the road conditions more dangerous for other drivers and putting you at risk for serious injuries.
---