Insurance and Your Snow Plow in Massachusetts
Top 5 Questions about Snow Plows
From Commerce Insurance Company
As the winter weather approaches, we would like to share some of the most common questions asked by our commercial customers who plow or remove snow as part of their business.
Question: I have a plow on my light truck and plan to clear snow. Do I need a Business Auto liability policy?
Answer: Not necessarily. A snow plow or other detachable equipment does not disqualify a risk from a Personal Auto Policy even if the insured is paid for services. If your customer is an individual, a personal policy with class 30 may be appropriate.
Question: I plow for the town and businesses that require additional insured status. Do I need a Business Auto liability policy?
Answer: Yes. Regardless of the weight or ownership of the vehicle, an additional insured cannot be added to a Personal Auto Policy. A Business Auto policy should be used. The Enhancer endorsement automatically added to your voluntary policies for no additional fee includes additional insured status when required by written contract. The MM9950 can be added to include additional insured status to voluntary policies where no written contract exists or for ceded policies with or without a written contract.
Question: Will the premium increase on my Business Auto Policy if I offer plowing services for a fee?
Answer: Probably not. Assuming that plowing is a side operation, and given the trend towards milder winters in Massachusetts, it is hard to imagine that a vehicle will plow more than 20% of the time. Nevertheless, if plowing exceeds 20%, then a "service" classed vehicle might have to be changed to a "commercial" class (80/20 rule).
Question: I am attaching a plow to my vehicle. Does my Business Auto Policy provide physical damage coverage for the plow?
Answer: Yes. There is physical damage coverage for the plow (equipment) as long as the vehicle to which it is attached also carries physical damage coverage. The cost new of the vehicle should be increased to include the cost new of the plow.
Question: I have a Business Auto Policy now. Does my policy provide coverage if someone slips on ice and is injured after I have finished plowing?
Answer: No. Incidents that occur after you have completed your job are not covered on an unendorsed policy. Those incidents, in insurance terms, are called "completed operations liability" and if you are being asked to cover them you will need to purchase the endorsement. Completed operations are covered on a General Liability policy, not a business auto policy. In order to keep liability rates low , most insurance company underwriters will provide this coverage when plowing is limited to driveways, streets and roads. Because of pedestrian traffic in parking lots many company's will not provide coverage if you plow parking lots. We have markets for all the different snow plow risks but, as you can see, it is important to be as specific as possible about the kind of plowing that you do.
---
School will be out soon, and now would be a good time to reserve your student driver magnet.
Reduce the stress of learning to drive; tips for the teacher and student.
Getting behind the wheel of a car for the first time can be an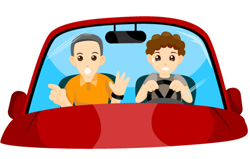 unnerving experience. Student drivers may face impatient drivers and honking horns when they stop at a yellow light instead of blasting through. Other drivers may stare at the student who hesitates before taking a turn at a busy intersection. Some may even tailgate as the inexperienced driver proceeds at a cautious speed, perhaps even below the speed limit.
O'Connor and Co. Insurance thought that one way to help our student drivers, and those with whom they share the road, is to have a "Student Driver" magnet on the student driver's car. We are offering our customers who have a student driver in the family a chance to borrow a "Student Driver" magnet for their car while the student learns to drive. Even our customers who are adult student drivers can take advantage of this offer.
Most drivers will appreciate the "heads up" of knowing that they share the road with a new and inexperienced driver. The bright yellow "Student Driver" magnet alerts other drivers to the presence of a novice driver and they will likely be more forgiving, patient and cautious.
Instead of finding the magnets embarrassing, most student drivers appreciate them. They know that other drivers understand the stress of driving for the first time and they are more confident knowing that they won't be harassed. "Student Driver" magnets allow the inexperienced driver to be more relaxed behind the wheel. As anxiety declines, the novice driver can better focus on following the rules of the road and good driver safety practices.
Customers of O'Connor & Co. Insurance Agency, Inc. can contact our office in Dudley, MA, at 508-943-3333 and reserve a "Student Driver" magnet for up to 90 days. When customers pick up a magnet, they will be asked to leave their name, phone number and email address. When finished with the magnet, simply return it so we can give it to someone else.
Click to reserve your student driver magnet today!

---