Are the Solar Panels on my roof covered by Home Insurance?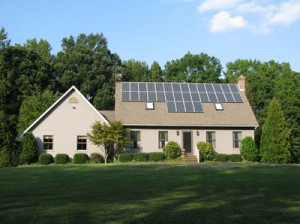 Solar panels can eliminate your electric bill and prevent various types of pollution. However, this technology still requires a substantial investment. A typical residential system costs about $15,000, according to the Boston Globe. It's vital to protect this valuable property by confirming that your home insurance covers it.
Standard Policy
You should notify your Insurance Agent about the change immediately.  As long as the panels don't cause your home's replacement value to increase beyond your coverage limits, most insurers will automatically cover roof-mounted photovoltaic equipment at no additional cost.
Leakage Concerns
Installers use a variety of techniques to equip homes with photovoltaic panels. Some contractors install mounts and wiring that penetrate the roof. This can increase the likelihood of ceiling leaks and damage. As a result, it is very important that you obtain a certificate of insurance from the installation contractor.  This way any claims for water damage can be put under the contractor's insurance and so they do not affect your own Home Insurance rating.
Panel Location
To maximize sun exposure, some homeowners install their solar panels on poles or place them on the ground.  If this installation best suites your individual needs then it becomes especially important to speak with your Insurance Agent.  It may be necessary to purchase additional coverage to increase the limit available for detached applications such as these.
Reimbursement
Depending on the scope of your project it may be necessary to increase your  coverage limit. The limit needs to reflect the total replacement value of your house, including the photovoltaic panels thus ensuring you'll receive full compensation if the panels are damaged or destroyed by a covered loss.
Types of Damage
Standard home insurance covers several kinds of solar panel damage. Generally, it will reimburse you when severe weather, fire or vandals harm your equipment. You will also receive compensation if someone steals the panels.
Extra Coverage
If you're worried about other natural disasters, talk to your agent about purchasing flood or earthquake insurance. Be sure to confirm that your specific company is willing to cover photovoltaic systems. Basic home insurance policies often include hail, thunderstorm and tornado coverage as well.
Documentation
An insurer is more likely to approve solar panel claims quickly the more documentation you can provide about the system. Documentation becomes very important when a disaster occurs. Remember to keep original receipts and photos in a safe place. For extra protection, you can always give copies of them to your insurance agent for safe keeping.


---