About Us
At O'Connor & Co. Insurance, we do things right the first time. We take a holistic approach, getting to know you and your unique insurance needs so that we can provide you with the best combination of protection and price. We offer informed advice so that you fully understand your options. At times, your personal or business circumstances may change, and we will work with you to modify your insurance policies appropriately.
Our agents and support staff have decades of experience in the insurance industry, with a depth of knowledge that only continues to grow. At O'Connor & Co. Insurance, we focus on the importance of training and teamwork. We keep abreast of insurance industry changes and, should these changes impact your coverage, share that knowledge with you.
Meet our team: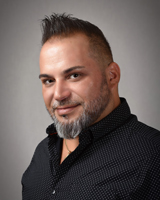 Jose Ortiz, Personal Lines Representative
Experience: Previous to the Agency, I worked for MAPFRE Insurance as a Service Center Sales Rep Sr. for 3.5 years where I was responsible for writing new auto and home Insurance policies. I have worked in the Customer Service field for over 15 years.
Personal: I have been living in Southbridge MA since August 1984. I own my own home. I have 2 small dogs. I enjoy spending time with family and friends. I enjoy the Beach in the summer and weekend getaways.